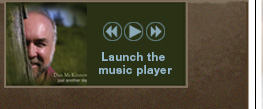 Dan McKinnon, Performance Review: Black Swan, York, England


Maverick Magazine Review: The Rockingham Arms


Review of House concert with Dan McKinnon


From Canada to the hearts of all who see him


Living Tradition Performance Review: Cleckheaton Folk Festival (JPG)



Fields of Dreams and Glory


Minstrel In The Rain


Songs From The Hearth


Between Wind & Water


Chasing Sunsets
---
Dan McKinnon, Performance Review
Black Swan, York, England
By David Kidman, June 29th, 2006
The Black Swan's seen some splendid nights of late, but this was one of the very best, with a fantastic atmosphere. Dan's a warm-hearted, warm-voiced, singer-songwriter from the Canadian Maritimes who's yet to attain wider acclaim in this country – but he received a rapturous welcome at the Black Swan! Quite simply he's one of the most genuinely engaging performers I know. He put the near-capacity audience in thrall the moment he took to the stage with his customary opener Wandering Days immediately winning over the curious into converts. Dan has a gorgeous baritone voice with an exceptional command of phrasing, light and shade – perfect for conveying the nuances and narratives of his finely-crafted songs.
He's been compared with Stan Rogers, and while he's very much his own man the comparison is not inappropriate, for Dan shares that beguiling quality of total artistic and emotional honesty. Dan's two well-filled York sets, dove-tailing with some perfectly well-timed floor spots, served as an excellent introduction to his world, with songs expressing a broad range of emotions and experiences all set to memorable melodies and many containing intriguing (if slightly challenging) choruses for us to sing (and we did…!).
During the course of the first set alone Dan gave us a heartfelt tribute to Canada's 'War Brides' (Kith and Kin), a heart-warming exploration of long-term relationships (The Same Pillow), two covers – a fun anti-shanty by Jim Stewart and Stan Rogers' White Squall and, to finish, a lovely nostalgic essay conveying the essence of Aesop's Fables.
Dan almost sold out of CDs before embarking on the longer second set, where he supplemented five more of his own fine songs with Archie Fisher's poignant Every Man's Heart, Stan's sublime Lockkeeper and the traditional Farewell to Nova Scotia. And what more could you wish for? – an encore! A blistering rendition of Mary Ellen Carter to bring the house down, naturally!
Yes, Dan's a lovely guy who really cares about humanity; his music is lovingly presented and accessible (and so what if these are old fashioned virtues!), and you owe it to yourself to discover his talent at the earliest opportunity (and he'll be touring the UK again next summer I believe).
---
Maverick Magazine Review
Eric Bogle & John Munroe - The Rockingham Arms
By Larry Kelly, Wentworth, UK - June 23rd
Although not billed to appear, Canadian singer-songwriter Dan McKinnon opened the evening with a half hour set which caught many by surprise. Accompanying himself on guitar, McKinnon, a native of Halifax, Nova Scotia, recounted a number of half forgotten events which are very much part of Canada's history. One such story was inspired by just one of the forty one thousand war brides who left Britain to marry Canadian servicemen whom McKinnon had met during his travels. Titled Kith and Kin it was both graphic and inspiring. Another song Remember Me recalled a devastating disaster which caused over two thousand deaths and blinded hundreds of children when two ships collided in the harbour and destroyed a large part of Halifax. Dramatic, horrific, and yet again, in its own way, inspirational, this song demonstrated McKinnon's skill as a storyteller. On this showing there is little doubt that Dan McKinnon could hold the attention of an audience for a considerably longer time than he was allowed tonight and should he happen to come your way, make a point of seeing him.
---
Review of House concert with Dan McKinnon
By Patricia Early, November 2007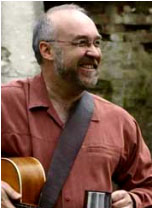 On Friday 9th November 2007 at a house concert in Ryde, the singer songwriter from Canada, Dan McKinnon, performed to a full house. Quite a number of those present were singers themselves and they gave an enthusiastic welcome to this Canadian songwriter on his first ever visit to Australia.
The evening started with a couple of numbers from a local group called Wayward Folk at 8pm then Dan took over and enthralled us for the next hour. As this was his first visit no one knew what to expect. There was this middle aged, balding man standing with his guitar and introducing his first song with a little story about it and then he started to sing, Wow, is the only word that comes to mind to describe it. Such a rich voice and every word clearly heard. The next hour passed very quickly especially as Dan encouraged his audience to sing the choruses with him, and they did. So much so that he said that to get that response in Canada he would have had to use a cow prod! We told him, here it would be impossible to shut us up. He laughed and that set the tone for the rest of the evening.
We had a supper break when Dan was very pleased to talk to anyone who wanted to speak to him. After supper he continued with his concert and the enthusiastic audience continued to sing along with his chorus's. Sometimes he gave us the words first but others we just picked up as we went. In addition to his own material he also sang some Stan Rogers songs and the audience really let rip. Near the end of his show he put down the guitar and sang Stan's Northwest Passage. which had been requested. Barry was lucky he had a roof left on his house. It was a phenomenal experience as I don't think there was a person in the room that didn't know the chorus to that as it had been a favourite of the late Dave Alexander's and sung on many occasions.
All in all a wonderful night, Dan's rich voice and warm personality made this an evening to remember for a long time.
---
From Canada to the hearts of all who see him
Monaro Musings (Canberra, Australia)
By Guy Gibson, December 2007
Dan McKinnon at the Merry Muse was one of the finest performances I have seen at the Muse for a very long time, ably supported by the fun and frivolity of Old Timey band Dr. Stovepipe, and a walkup from Humbug.
When Dan got on stage we weren't prepared for the rollercoaster of emotion that ensued. From deep and insightful looks into the aging process to the heart wrenching tales of disasters, Dan's songwriting is as powerful as is his performance. His voice is a mixture of James Keelaghan and Stan Rogers; his finger picking guitar style is as proficient as any of the greats. He always performs a Stan Rogers song in each set (in homage to the fact he found his songwriting voice while listening to a tape in a hitched car trip one day), and although great songs they didn't stand up against his own.
What a night!
---
Living Tradition Performance Review:
Cleckheaton Folk Festival
Click here for article in Jpg format
---
Review: Dan McKinnon - Fields Of Dreams And Glory (GRZ)
David Kidman, NetRhythms
Dan hails from the Canadian Maritimes, and is another of that country's excellent singer-songwriters who's yet to attain the wider acclaim he deserves in this country. But Dan's over here a-touring this summer, so you'll get the chance to sample first-hand the many delights of his big-hearted personality, his engaging presence and his insightful songwriting. He's been compared with Stan Rogers - and certainly he shares with Stan a gorgeous warm baritonal vocal quality, and a readily accessible style that folks quickly warm to. Both his singing and his writing are characterised by a most winning combination of gentleness and strength.
Fields Of Dreams And Glory is his fifth CD already, and its close-on-an-hour's playing-time contains a large number of songs that both make a strong initial impact and will resonate with you for ever. He takes the classic themes of life, love, hope and despair and thoughtfully weaves them into beguiling and involving narratives that have the ring of absolute truth and total artistic and emotional honesty. From two heartfelt tributes (to Canada's brave "War Brides" on Kith And Kin, and the Merchant Navy men of WW2 on Many Miles To Go) and a nostalgic essay conveying the essence of Aesop's Fables, to the powerful narrative of Angeline, the caring, Thoreau-inspired philosophy of The Lovers Of Our Time and the exploration of long-term relationships in The Same Pillow, Fields... is a varied and engaging set encompassing a broad range of emotions and experiences, all expressed with a very real humanity.
There's even the obligatory silly song, The Ballad Of The Simple Sailor, a delicious piece of forebitter-style nonsense from the pen of Jim Stewart that's got more than a touch of that old seadog Tom Lewis about it! (must be something in the Canadian water, huh?!). The only place where Dan's writing doesn't quite hit home for me is This Side Of The Sod, whose air of old fashioned cautious optimism feels a little dated, an impression reinforced by the almost-music-hall clankiness of the piano backing.
During the course of this album, Dan also takes the opportunity to cover two lovely Archie Fisher compositions that fit snugly in with Dan's own style and sentiments, and he also turns in a pleasing rendition of Rose Of Allendale. Dan's sterling supporting crew (Tom Leighton, Dennis Pendrith, Don Reed, Paul Mills - aka. Curly Boy Stubbs! - and Wendy Solomon) proves both select and sympathetic, with the warm colours of accordion, cello, piano, fiddle, guitars and basses perfectly in accord with Dan's own tones. So, if you've any penchant for quality story-songs well sung, then I'd urge you to investigate Dan sooner rather than later.
---
Review: Fields Of Dreams And Glory
By John Ferguson, Celtic Heritage Magazine
Click here for article in Jpg format
Review: Fields Of Dreams And Glory
SingOut! magazine (2006)
Click here for article in Jpg format
McKinnon's Best Yet (Review of Fields of Dreams and Glory)
By Sandy MacDonald, Halifax Herald (2006)
Click here for article in Jpg format
---
Review: Minstrel in the Rain
By Dan Gilman, Sing Out! The Folk Song Magazine (September 22, 2003)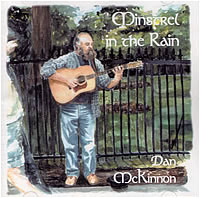 Dan McKinnon's latest album is a fine showcase of his rich voice and careful renderings of traditional songs and new compositions. "Jessie Munroe," arranged by McKinnon, is from the Helen Creighton collection of Nova Scotian folk music, as are most of the traditional songs on the album. Besides the singer's beautiful, clear baritone voice, the melody is well served by McKinnon's sensitive guitar playing. "William Glenn," the broadside ballad of murder on the high seas, is another selection from the Creighton collection, although McKinnon chooses to follow Nic Jones's arrangement for the melody.
The comparison with Jones's own version is interesting: in McKinnon's hands, the song is transposed to a major key, and the tone is sprightly rather than ominous. Stan Rogers' stylistic influence is particularly apparent in this song, as well as Jones's, in the handling of the high musical phrases. "Angel's Delight," my favorite of McKinnon's compositions, is a charmingly crafted love song to scotch. An accordion and a fiddle playing accompaniment add a sweetly sentimental touch that seems apropos nay, required!--for an ode to hooch.
---
Review: Songs From the Hearth
By Cheryl Turner, Rambles Cultural Arts Magazine (September 29, 2001)
"What better place is there than to sit in front of a fire and tell stories and listen to songs with just the crackle of the fire for noise?" writes Dan McKinnon in the liner notes for this album. I couldn't agree more, and if I were to do so, I'd be sure to invite McKinnon along. Or at least pop his CD into the player.
With Songs from the Hearth, McKinnon brings us another round of the relaxing, fireside-worthy songs that are so characteristic of his work. McKinnon, born and raised in Nova Scotia, Canada, tends to stick close to his roots in his songwriting. Ballads focusing on the life of a fisherman or a sailor, the beauty of his homeland or the comforts of home are a mainstay on the album. Joining McKinnon (vocals, guitar and bass) on the recording are Gordon Stobbe (fiddle, mandolin), Jon Goodman (Irish flute, whistles) and Mark Currie (bodhran, bones, didgeridoo).
Among McKinnon's talents is his ability to borrow from a number of sources and combine the bits and pieces into a formidable work. "Farewell My Lassie-o" is a re-fashioning of an older song, alternatively titled "On the Banks of Jeddore," "The Nova Scotia Song" or "Farewell to Nova Scotia." He has kept, he says, some of the "quite different and beautiful" lines, got rid of the rest and changed the melody. The result is a lyrically and instrumentally pleasing ballad put together with lovely whistle harmonies. "Pirates of Penzance/Three Fishers" begins with a lovely old Cornish pipe tune and combines a poem by Charles Kingsley with music by Garnet Rogers. These separate elements make a wonderful fit, the flute and guitar carry the tune well, and the bodhran provides excellent rhythm and tone to accompany the song.
This album and indeed McKinnon's work in general, features very ear-pleasing instrumentation and melodies. The instrumentals flow together seamlessly, and McKinnon has a knack for choosing just the right instruments -- and just the right amount of each instrument – to really make a song work. Lovely fiddle strains, along with guitar and mandolin are featured in "This House," while "Queen Upon the Water" is a ghost song, made more potent by the sounds of whistle and digeridoo. McKinnon's solo guitar and vocals shine in "Canadee-i-o." In fact, I can't say enough good things about McKinnon's guitar playing -- his style really appeals to me.
Another strength to the album is the liner notes. McKinnon has not only included the lyrics to all of the songs, but also some explanatory notes. The notes are about origins of songs or the thinking behind the lyrics. This is something that I find interesting, and all-too-neglected in many albums. It adds an interesting perspective to an artist's work when you have an idea of where the song might have come from or what the artist was thinking about at the time he wrote the song.
McKinnon's smooth baritone voice seems simply built for the ballads he sings, and the emotion he brings to each piece sets them apart from the rest of the crowd. Ear-pleasing melodies are common to all of his work, and the lyrics to his original songs are thought-provoking and from the heart. If it's a fireside session you're looking for, Dan McKinnon is your man.
---
Review: Between Wind & Water
By Tom Knapp, Rambles Cultural Arts Magazine (1997)
When the Maritime Museum of the Atlantic in Halifax, Nova Scotia, wanted an additional medium for sharing the culture and history of its seafaring past, it tapped singer-songwriter Dan McKinnon to do the job. Rather than record new versions of old shanties and other Maritime songs, McKinnon was charged with writing and performing new music spotlighting aspects of Nova Scotia's rich coastal heritage.
The resulting CD, Between Wind & Water, is a strong tribute to that heritage. McKinnon exercises his skills as a storyteller to evoke colorful memories of the region.
The album's title track begins things with a gentle, simple homage to the sea and those who work on or live near it. McKinnon then evokes the image of ocean as a nurturing entity, paying tribute to the women who've lost husbands and sons in "Mother Sea." "Before the Day is Done" is a sailor's work song in the vein of old shanties, while "Sailmaker" honors an old trade fallen victim to modern technology.
The schooner Bluenose has a fond place in the hearts of many Nova Scotian sailors, and "The Captain & the Queen" tells her tale. "The Wind in Your Soul" is another story-ballad, telling of Nova Scotian Joshua Slocum who, in the 1890s became the first person to sail around the world alone. "Remember Me," perhaps the most touching and sorrowful song on the album, describes the Dec. 6, 1917 explosion in Halifax harbor which killed close to 2,000 people and left 6,000 homeless.
"Shifting Sands" is about narrow Sable Island which claimed many ships in years gone by. "Many Miles to Go" commemorates the Canadian merchant seamen who braved German submarine attacks to keep supplies flowing to the Allied troops. The impact of steamships on the Canadian economy is recalled in "No Tomorrow," while the scientific steamship Acadia, which saw much service from 1913 to 1969, gains new life in "The Grand Old Lady." The album ends with an appropriate traditional ballad, "Farewell to Nova Scotia."
Besides McKinnon (vocals, guitars, bass, long-neck mandolin), the recording features the talents of Marc Currie (bodhran), Jon Goodman (Irish flute, whistle) and Gordon Stobbe (violin). Kudos, too, for the liner notes, which provide complete lyrics, brief narratives about the incidents described in each song, and photos illustrating the music. It might sound cluttered, but it's not; designers Kathy Kaulbach, Dan Conlin and Michael Murray deserve a mention for their work.
McKinnon's singing and songwriting styles demand comparison to the late, great Stan Rogers -- if McKinnon isn't a Rogers fan, I'll be very surprised. And, while he's no replacement for Stan, he's a fair enough successor -- he's surely on the right path. The stories on Between Wind & Water certainly help keep a culture alive in our hearts.
---
Review: Chasing Sunsets
By Cheryl Turner, Rambles Cultural Arts Magazine (1995)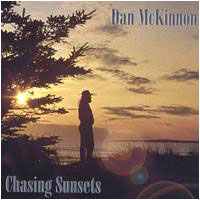 On this independently released album, Dan McKinnon displays a wealth of musical talents. His rich baritone voice seems made for the searching, often sentimental songs it contains. There are plenty of ballads on this recording, along with the odd faster-paced song to pick things up a bit. His style is somewhat reminiscent of folk legend Stan Rogers, and can easily be identified as East Coast folk music, with its themes of the sea and maritime life.
These themes are not surprising, given that McKinnon was born and raised in Nova Scotia, Canada. On Chasing Sunsets, McKinnon provides vocals, guitar and bass, and is joined by Tino Bonomo (fiddle, mandolin, accordion), Jon Goodman (Irish flute, whistles) and Marc Currie (bodhran).
I can't think of anything major that I don't like about this album. There are a couple odds and ends which are simply a matter of taste, I think. In "Mother Sea," the chorus is at a slightly different tempo than the rest of the song, which I find a little distracting, even though I like both parts. "Last Man to Fall" has a little accordion tune at the end of it, and although I like the tune, it just seemed a bit disjointed from the song.
As far as everything else goes, this recording is fantastic! McKinnon's guitar style is wonderful, and quite expressive, as is his voice. The arrangements and tunes to all of the songs blend well, and provide the perfect setting to McKinnon's powerful lyrics.
"The Woman with Stars in her Eyes" has a beautiful sentiment to it, and flute, fiddle and guitar mingle to provide a pleasant, flowing tune. "Mother Sea" is a showcase for McKinnon's expressive voice, while "Land of My Heart" features lovely flute and guitar playing to a rather nostalgic song about home.
"Mystery of Oak Island" is a more up-tempo tale of the mystery surrounding Nova Scotia's alleged buried treasure. This was one of my favorite childhood stories, and is well told by McKinnon, with a nice flute and fiddle introduction. "Nellie J. Banks" is another upbeat ditty about rum running during Prohibition, and is the only non-original song on the album. Mandolin, fiddle, guitar and bodhran combined for some fine instrumentals.
McKinnon has a talent for telling tales of life -- its challenges and its beauty -- in a poignant fashion which the audience can identify with. "Lakes of Bras D'Or" is a wistful tune, reminiscing about childhood days gone by. "Light of the Watchman" is a moving tribute to the lighthouse keepers who technology has made obsolete, while "Last Man to Fall" pays homage to those who fought in the first World War.
There aren't a large number of upbeat, cheery songs on the album, but McKinnon paints a vivid portrait of life with his words. This recording makes for good listening on a quiet afternoon, or perhaps curled up by the fireside on a cold winter day. McKinnon has a remarkable talent for vocal (as well as instrumental) expression, the tunes to his songs are catchy, and his lyrical abilities are outstanding. Even though I usually prefer zippy instrumental music to folk ballads, McKinnon has certainly won over my heart, and I look forward to hearing more from him.